Destined
Talk

0
5,175pages on
this wiki
Destined
Biographical Information
Real Name

Ilysa Tatiana Roman

Universe
Place of Birth

St Rocha Born

Citizenship

US

Known Aliases
Identity

secret

Date of Birth

Oct 31

Classification

Delta Mutant

Physical Description
Race

Human

Gender

Female

Height

5'9

Hair Color

Black

Eye Color

Blue

Personal Information
Allies
Enemies
Known Relatives

Irena Roman (Mother) Ana Roman Fraternal Twin Dean Roman father

Known Powers

Precognition
Spatial awareness

Known Abilities
Fighting Styles

Personal Mixed Martial arts Fencing

Professions

Solider in training
Back up singer Violet Lights

Education

Learned

Political Information
Position / Rank
Former Affiliation
Current Affiliation

Violet Lights

Exodus Information
Creator
NPC

No
The oldest of two girls born to Sliver Sable and her husband Illya is currently in New Orlias looking for her baby sister who ran away due to the difficulties due to their mutant powers coming on line. When not hunting for Blink she is singing with the Viloet Lights.
Precognition: Destiny possess the psionic power of precognition: the ability to perceive in her mind's eye the events of possible futures. Although she was blind, Destiny could mentally scan the probability spectrum of alternate futures and mentally perceive sounds and sights of events that distinguish them. By concentrating she could focus on only the most probable alternate futures. The accuracy of Destiny's ability to foresee future events decreased in direct proportion to the number of alternate futures to scan. She could comfortably scan the alternate futures that exist from one second away up until those that exist fifteen minutes away.The more likely that a particular alternate future would manifest itself in her reality, the clearer and more distinct her mental impression of it would be. Less likely alternate futures would appear hazy and indistinct. If she left her precognitive perceptions fully open, she would "see" an overlapping succession of images drift in and out of focus as probabilities shifted and further elements transpired. By active participation in the events around her, she could help shift the probabilities toward desired ends. Her personal phenomenal field, that area with which she could not scan the future for events that might take place on the other side of the world or even a mile away.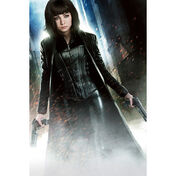 Other than above powers Destined is a base line human who works out and trains but is susceptable to human weaknesses and limitations.
Twin bond: If her twin is hurt she will feel it as if she had expeince the injury herself.
Marksman-Illya has been training for two years to join her mothers company. She is a crack shot able of quiflying for Shaprshooter, thanks to the training of her father and mother,
Singer-A good saprano singer she has had traning in sing to some level a skilled that helped her get back up for Viloet Lights.
Dancer
Fencing/Sword play
Divianation through other methods: Mostly tea leaves and Tarot cards she was trained by her gypsy great aunt how to tell the future
Some Martial Arts training:
Twin sense
Equipmenet
Edit
2x Glock Pistols
Russian Assualt Rifle
Grandes
Kevlar Lined clothes
Diary
Various Wigs
Harley Davidson Motercycle
Behind the senes
Edit
based on mostly Marvels Destney