Jagtai
Biographical Information
Birth Place
Current Residence
Date of Birth

1980

Physical Description
Gender

Male

Height

194 cm

Hair Color

Blonde

Eye Color

Green-grey

General Information
Occupation

Customer Consultant (aka Telephone Salesperson)

Hobbies

Fantasy, Science Fiction
I'm a 35 year old male living in Copenhagen, Denmark, working as a Customer Consultant (aka Telephone Salesperson) for an online loan firm, 4Finance.
I've been writing on Exodus since it opened, and was on the SWG boards for about a year before that.
I've come to know many people there, some of which I count as true friends. I'm too busy to write much at the moment, but I hope to have more time as I become more used to prioritizing my time between work and free time (yeah, hasn't worked out well the past 6 years, but meh).
If you want to know more, my email can be found on SWE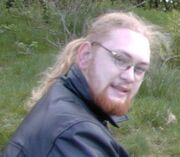 Ad blocker interference detected!
Wikia is a free-to-use site that makes money from advertising. We have a modified experience for viewers using ad blockers

Wikia is not accessible if you've made further modifications. Remove the custom ad blocker rule(s) and the page will load as expected.