Joyite
General Information
Homeworld
Type

Mammalian

Language
Physical Information
Average Height

2 Meters (female)
2.1 Meters (male)

Skin Colors

Black

Hair Colors

Gray (fur)

Eye Colors

Red

Abilities Information
Special Attributes

Muzzle with Hooked Teeth

Societal Information
Common Affiliations

Clan Badger of the Jade Worlds

Famous Members
Exodus Information
Creator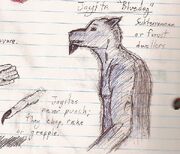 Vaguely humanoid, the wolflike Joyites live either in the forest or in subterranean cities. Their civilization had achieved planetary unification and interstellar travel by the time they encountered and united with the Jadeworlders. Fully as intelligent as humans, their predatory nature is tamed by rigorous self-discipline - something they have in common with their Jadeworlder-human countrymen. Similarly, Joyite society also places a high priority on the family and clan.
The name 'Joyite' derives from the name given to their planet by the Jadeworlder humans. Their actual name for themselves is close to 'Fedreki,' meaning 'First People,' but human vocal chords mispronounce it badly, so most prefer 'Joyite.'
'Bluedog' is one slang or derisive term.
Joyites are one of the most numerous species in the Jade Empire, in the same order of magnitude as Humans and Rai. They have a controlling interest in the Jade Empire Armed Forces, and two Joyites - Jagheky and Thormatar rank among the JEAF's most senior general officers.
Ad blocker interference detected!
Wikia is a free-to-use site that makes money from advertising. We have a modified experience for viewers using ad blockers

Wikia is not accessible if you've made further modifications. Remove the custom ad blocker rule(s) and the page will load as expected.