Kiar Jensen
Biographical Information
Homeworld
Date of Birth
Physical Description
Species

Human

Gender

Female

Height

1.85 meters

Hair Color

Black

Eye Color

Blue

Personal Information
Allies
Enemies
Weapons

Various

Professions

Supercommando

Ships
Political Information
Position / Rank

SpecOps

Former Affiliation
Current Affiliation
Exodus Information
Creator
NPC

No
"I was born a Mandalorian and I will die one. All I can do is fight for the honor of my people."
— Kiar Jensen
Kiar Jensen (15 BBY) is the resident special operations agent for the Mandalorian Protectors. Though her methods are deemed by many to be less honorable, Cadden Blackthorne often relies on her stealth and covert operations skills to prepare for battles against the enemies of the Mandalorians. Her one hope is to see the Mandorlains risen up to their previous status as the greatest warriors in the galaxy.
A master of martial arts, Kiar is well-trained in all forms of combat. However, she prefers hand-to-hand, such as Teräs Käsi. She also holds an adept knowledge of technology, allowing her to hack or slice systems, write viruses, and perform other programming feats.
Born the youngest of two children, Kiar was raised as all Mandorlian children are - to fight. However, her mother also made sure she knew more subverisive opterations, knowing deep down that it not only takes brawn and brains but, also good intelligence, to win wars. Her real name is Kira, but was given the nickname Kiar by her older brother. She also owns and runs Crimson Shipping Company which she uses as cover to move from place to place virtaully undected.
Recently during the Xen Chi conflict she has been in deep cover, her last mission taking her to Coursecant where she recovered vital blue prints she is now enrout home on her Firefly Medium Frefighter Krimson Night. Zarren Jensen. With Zarren at the helm . . . .
Rude Awaking (Coming Soon)
Edit
A Minor Complication
Edit
Mandalorian Justice (Coming Soon)
Edit
Training, Skills, and Weapons
Edit
Hacking and other Computer Skills
Edit
Supercommando
Edit
Teräs Käsi
Edit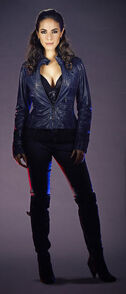 Persoanlity and Characteristics
Edit
Ad blocker interference detected!
Wikia is a free-to-use site that makes money from advertising. We have a modified experience for viewers using ad blockers

Wikia is not accessible if you've made further modifications. Remove the custom ad blocker rule(s) and the page will load as expected.