MC80a Star Cruiser
Production Information
Manufacturer
Product Line

MC Series

Model

MC80a

Scale

Capital Ship

Cost

75,000,000 Credits

Technical Specifications
Length

1,200 meters

Maximum Acceleration

4 MGLT/s

MGLT

10 MGLT

Hyperdrive Rating

Class 2

Backup Hyperdrive Rating

Class 8

Shielding

3,840 SBD

Hull

2,128 RU

Armament

48 Turbolasers
20 Ion Cannons
4 Warhead Launchers
6 Tractor Beam Projectors

Complement

72 Starfighters
5 Shuttles

Crew

668 Officers
4,734 Enlisted

Minimum Crew

1,230

Passengers

1,200 (troops)

Cargo Capacity

20,000 Metric Tons

Consumables

2 Years

Usage
Roles

Cruiser

Year Introduced

4 ABY

Affiliation
The MC80a Star Cruiser is a newer variation on the MC80 Star Cruiser converted starliner design. It was developed immediately prior to the Battle of Endor to boost the size of the Alliance fleet before its assault on the second Death Star. This design is not available for production but can be produced through starliner conversions. It is less popular than the MC80b Star Cruiser design.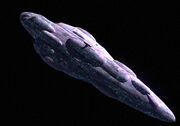 Ad blocker interference detected!
Wikia is a free-to-use site that makes money from advertising. We have a modified experience for viewers using ad blockers

Wikia is not accessible if you've made further modifications. Remove the custom ad blocker rule(s) and the page will load as expected.