=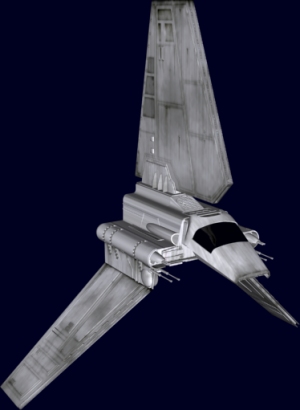 White Fang
Production Information
Manufacturer
Model
Technical Specifications
Length

20 meters

MGLT

65 MGLT

Atmospheric Speed

850 kph

Hyperdrive Rating

Class 1.0

Backup Hyperdrive Rating

Class 10

Shielding

100 SBD

Hull

66 RU

Armament

2 Fixed Forward Twin Blaster Cannons
2 Steerable Forward Twin Laser Cannons
1 Aft Retractable Twin Blaster Cannon

Crew
Minimum Crew

1

Passengers

20

Cargo Capacity

80 Metric Tons (without passengers)

Consumables

2 Months

Other Systems

HoloNet Transciever

Usage
Roles

Transport

Year Commissioned
Earliest Sighting
Latest Sighting
Affiliation
Known Owners
Known Commanders
Exodus Information
Creator
The White Fang was a standard-issue Lambda-class T-4a Shuttle, commissioned to Blackthorne Enterprises. It remained registered to Blackthorne Enterprises, despite the company's dismantling by Cadden Blackthorne, but owned personally by Cadden, who had previously given it to his son, Guan. However, when Guan opted to stay at the City of the Jedi after the Battle of Taylon, Cadden took the shuttle back with him to Mandalore, leaving the Inferno behind for Guan and Jerik. When it was fully transferred to the Mandalorian Protectors, its registration to Blackthorne Enterprises was cancelled.
Ad blocker interference detected!
Wikia is a free-to-use site that makes money from advertising. We have a modified experience for viewers using ad blockers

Wikia is not accessible if you've made further modifications. Remove the custom ad blocker rule(s) and the page will load as expected.